Aquatic Weed Harvesting and Lake Weed Control/Removal Contractors for Commercial and Residential clients
Aquatic Weed Harvesting customers select American Dredge and Aquatic Weed Control Services for all of their Aquatic Weed Harvesting and Aquatic Services needs. Let us be your first choice in Lake Weed Control or Removal, Aquatic Weed Harvesting and Aquatic Control of Lake Weeds. We have multiple offices covering Michigan, MI, Ohio, OH, Indiana, IN, Pennsylvania, PA, Vermont, VT, and further south Missouri, MO, Georgia, GA, Kentucky, KY, Illinois, IL, Wisconsin, WI, Florida, FL, South Carolina, SC,TN we have offices near you and travel the nation for Large Projects. Even Alaska for aquatic weed harvesting. We also remove large acres of cattails, lily pads from large bodies of water, ponds and lakefronts with our specialized Hydro-rake & Amphibious equipment. We travel the nation doing what is best for our customers and the environment contact American Dredge and Aquatic Weed Control Company at phone: 1-800-649-7946 www.swampthing.us.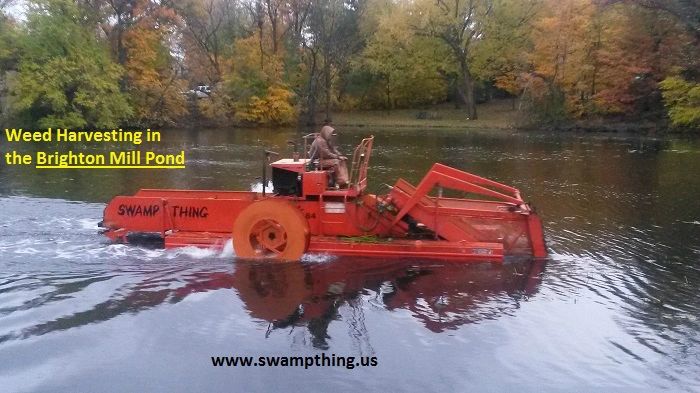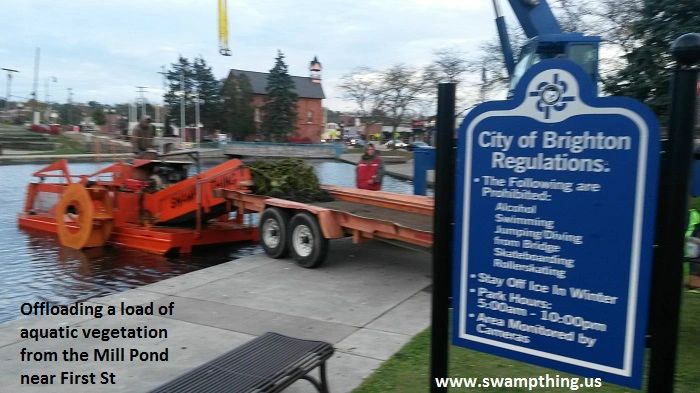 We are an established Aquatic Weed Control Company that has a proven process with a large fleet of Aquatic Weed Harvesters, Conveyors, Trailers, Aquatic Weed Control equipment, boats, dump trucks that can handle larger projects when others can't. We have the capabilities to handle Large Aquatic Weed Harvesting projects for Power Companies, Water treatment facilities that need there waterways cleared for increase water flow, no matter what state your in

IN, MI, OH, IL, WI, PA, VT, NY, ND, SD, ID, WY,WA, KS, CO, TN, KY, MO, IA,GA, SC, NC,AL, FL,TX, CA

. If you have debris in the water, we do have specialized equipment we can bring to your project to remove logs, larger sections of cattails, phragmites and lily pads. Lake Associations that want a Larger Professional Aquatic Weed Control company that has enough equipment to meet your needs, contact us. We have a variety Aquatic Weed Control equipment and sizes to meet your demands contact us today at 1-800-649-7946.


2020 Advertisement! Aquatic Vegetation is expected to be very bad this year due to the abnormal mild winter we have had across the United States. HOA's, Lake Boards, City and Township councils we advise you to plan earlier rather than later. We have one of the largest fleets of Aquatic Weed Harvesters and if you would like to plan ahead we recommend you schedule your dates with us now, because based on prior years the outcry for aquatic vegetation removal will be large this year. Even with people that may get herbicide treatments, most of them will still need aquatic weed harvesting done by us. If you have had a problem in the past with Curly Leaf Pond Weed (Potamogeton Crispus), a lot of the North/Eastern states like MI, IL, WI, MN.....VT, NY, PA you should call now.. Eurasian Milfoil will be bad this year!!!

Curly Leaf Pond Weed (Potamogeton Crispus )

Curly-Leaved Pondweed is a hardy, aggressive non-native plant. Curly Leaf is usually the first macrophyte to emerge in the spring but dies back by July (causing other problems). Reproduction: Potamogeton Crispus reproduces mainly by turion production. Potamogeton crispus has a rather unusual life cycle. Fruits, turions and seeds are produced in late spring/early summer and by July, Curly Leaf Pondweed has died back. The fruits and turions survive all summer and germinate in the fall. The new plants grow to a few centimeters tall and over the winter in a dormant state, even under the ice. In the spring the small plants already have a head start on other native macrophyte and can quickly form dense stands. Note: We Have Had a Mild Winter, these and other plants are getting an early start!! Call us now to lock in dates to allow us to weed harvest the mats of curly leaf and help significantly remove the plant mass/turions. Which will overall help reduce the amount of decomposed mass and turions allowed to spread in your body of water. Remember when the plant decomposes early in the summer, it also allows for nutrients for other invasive plant life within your body of water, like Eurasian Milfoil, or coontail, etc. When curly leaf dies back in July, and when the dense mats decay, the available oxygen in the water may be depleted. This resulting low oxygen conditions (Anoxic) can lead to fish die off and harm other aquatic organisms. Nutrients released from the decaying plants may also contribute to algal blooms and accelerate other plant species. (Similar process happens when you spray a herbicide on aquatic plant life, you are not removing, but causing the plant to decompose, adding nutrients in the body of water, to promote other future weed growth).

If you have Curly Leaf Pond Weed problems in the past, please consider scheduling early before your stuck with a big problem this season.



Do you want to get rid of Geese off your dock, swim raft or lawn?




Our customers have told us over the decades we have the absolute best goose, duck, seagull and critter deterrent made.



New Geese Deterrent--safely prevent, keep off Geese on your shoreline, grass, boat docks, swimming rafts several products to choose from. The Goose Be Gone TM will allow you to keep geese away, get rid of geese off your shoreline, sidewalks, swim raft, off your lawn. Also we have been told by clients The Goose Be Gone TM and Redneck Crittor Gettor TM are some of the best products in the world to keep deer out of a garden, keep ducks, geese, seagulls, pelicans, raccoons, squirrels, off or out of areas of a yard. Get rid of geese, ducks, seagulls off your lawn, or off your green grass (all that nasty goose poop). Pricing for these units are $125, with additional options. Have you tried the rest, now try the best email: manager@swampthing.us or 1-800-649-7946.
Keep Geese off your swim platform, or off your swim raft with this unique product is like no other with the

Redneck Crittor Gettor

TM . Are you tired of all the geese, duck, seagull or pelican poop on your swim raft. Then keep them off your dock or swimming raft with this portable unit. It's absolutely amazing goose, seagull or waterfowl deterrent. Call or email for details, pricing for these units average $145, depending on chosen options. Customers have using it also to keep away the neighbors cat, or dog - It's a great product!
Our Southern Branch: we are looking for clients with aquatic vegetation problems in Southern states: Missouri, South Carolina, North Carolina, Georgia, Florida, Tennessee, Mississippi, Louisiana, Arkansas, Texas, and Vermont and Pennsylvania. . If you have an over abundance of lake weeds on your waterway please email us and tell us of your situation. Do you and your neighbors have a hard time getting your boats in/out of your dock because the aquatic weeds are too thick. Does the lake weeds make it difficult to enjoy fishing, boating, swimming or the view. Please tell us of your situation, which lake your on and if you know of others in your area that have a similar problem.


Here are a few pictures from aquatic weed harvesting and aquatic weed removal in Missouri, Iowa area, (close to Kansas, Illinois where we also perform weed harvesting and dredging services).


This is just one are of many large areas on the lake in Missouri that needed aquatic weed harvesting of the lake weeds removed in order to improve the lake so thousands of people can enjoy the Missouri lake for summer time fun and recreation. Also making a huge positive impact on the overall health of the waterway long term. Overall making a positive financial improvement for the businesses that earn a living from these waterways, because if people can enjoy the waterway, they will want to come back, tell their friends and in return will rent cottages, spend money on renting boats, kayaks, eating at the nearby restaurants, shopping at the nearby stores, etc... contact us today at 1-800-649-7946 or send us an email at: manager@swampthing.us to make a very positive impact on your waterways! (Missouri, Iowa, Kansas)….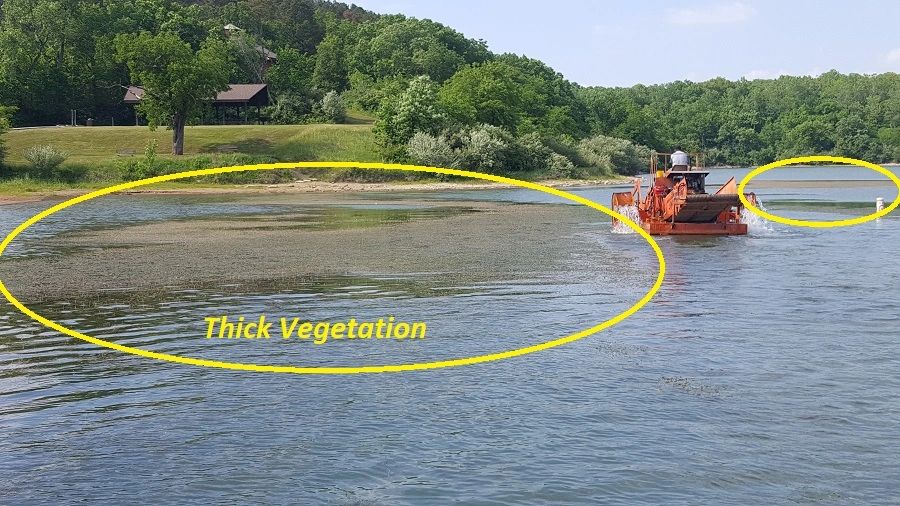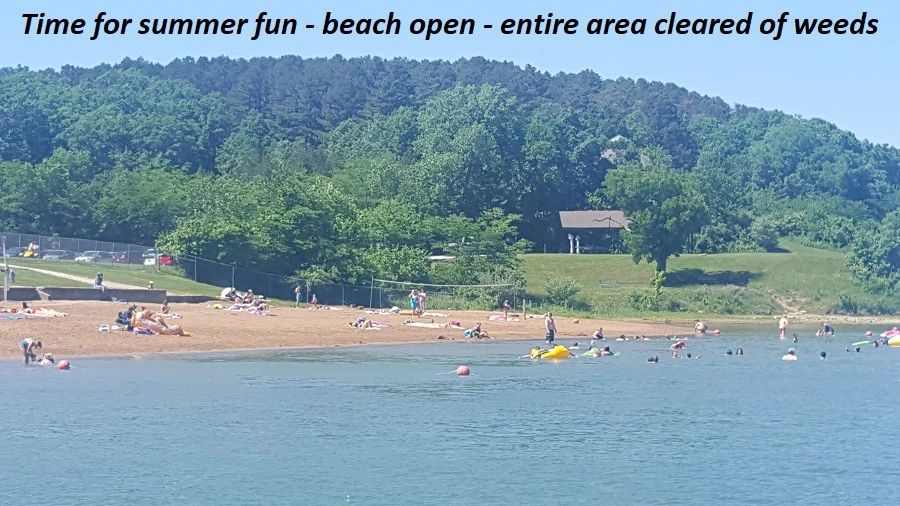 New for 2020 we are looking for clients with dredging concerns and milfoil, curly leaf pond weed and other aquatic vegetation problems in Northern, Southern and Eastern states. If you have an over abundance of sediments or lake weeds on your waterway please email us and tell us of your situation. Do you and your neighbors have a hard time getting your boats in/out of your dock because the aquatic weeds are too thick. Is it too shallow because of too much muck or sediment build up? Does the lake weeds make it difficult to enjoy fishing, boating, swimming or the view. Please tell us of your situation, which lake your on and if you know of others in your area that have a similar problem.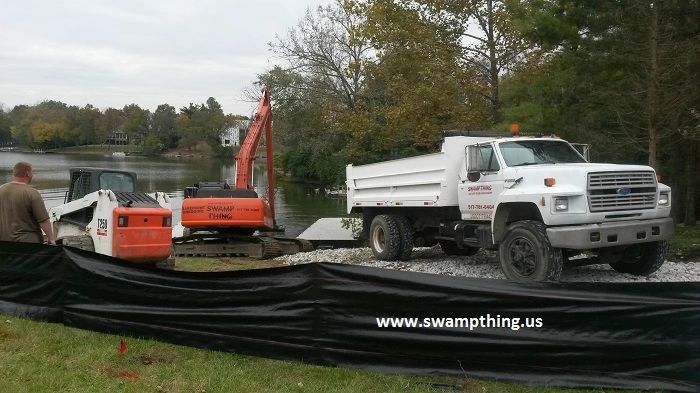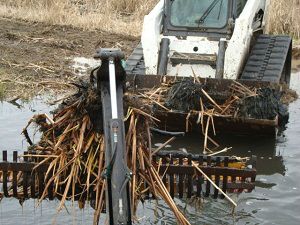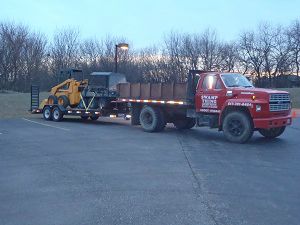 Aquatic Weed Harvesting - aquatic weed removal or lake weed removal

The more Aquatic Weeds you remove during the spring, summer and fall the less Aquatic Weeds that will be on your lake front. The problem with a lot of chemical use it decomposes the lake weeds but creates biomass on the bottom of the lake, which can create a "Mucky" type bottom. More nutrients can lead to Algae Blooms and then they have to apply more chemicals. You're adding mass to the bottom of your lake, losing depth. Aquatic Weed Harvesting can actually improve your ecosystem on your lake when managed properly. Creating better breading grounds for fish and wildlife. Improving oxygen levels by removing masses amounts of vegetation. Especially beneficial going into winter. It is like giving your lake front a healthy haircut. It is about keeping your lake in balance, keeping it healthy for you and future generations to enjoy. www.swampthing.us. This is the start of how you improve your lake, pond or canal. Further down the page are aquatic tips.

Aquatic Weed Harvesting with GPS tracking
At Swamp Thing Aquatic Weed Control Services we provide Aquatic Weed Harvesting with GPS tracking as shown below for clients that have large areas that need to be Aquatic Weed Harvested. This works excellent for townships, municipalities, large lake boards, state projects that require tracking for funding. Swamp Thing leads the way to meet our clients needs to do an effective and thorough job. The highlighted areas show were several Aquatic Weed Harvesters cut and removed the vegetation from the lake. www.swampthing.us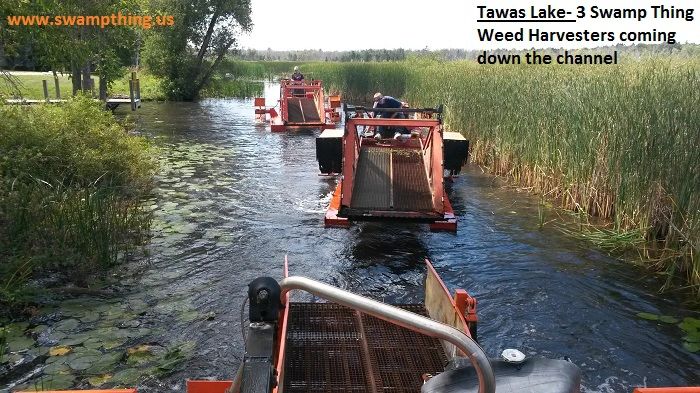 We have a Fleet of Weed Harvesters & Aquatic Weed Removal equipment to handle your aquatic vegetation removal needs.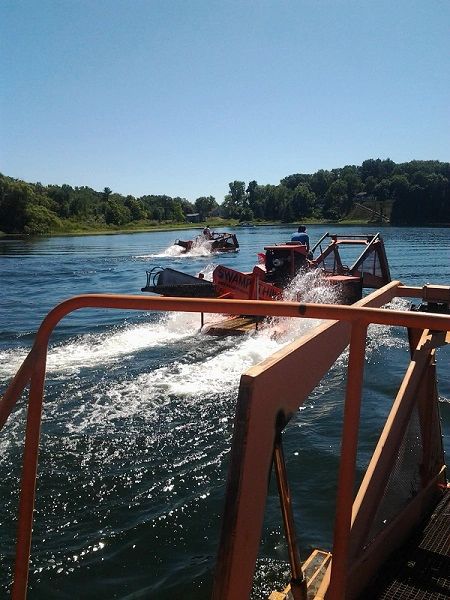 Periodic aquatic weed harvesting of shoreline areas will in many instances prove to be an effective means of aquatic plant control. The rooted AQUATIC WEEDS must produce sufficient food in their leaves to maintain their root systems. Frequent cuttings of the leaves will eventually lead to death of some of the root system, because your taking food away. It's the opposite with herbicide or chemical use, you are decomposing a portion of the plant and providing nutrients for stronger weed growth for this year and future years.

Like weeding the garden, it is necessary to watch for the early development of potential problems and remove the AQUATIC WEEDS as they become established and before they spread over large areas. For a more permanent solution we can dredge and remove the sediments and root systems, which is causing the abundant growth. It reduces the amount of Biomass on the bottom of the lake, more biomass equals more nutrients for plant growth.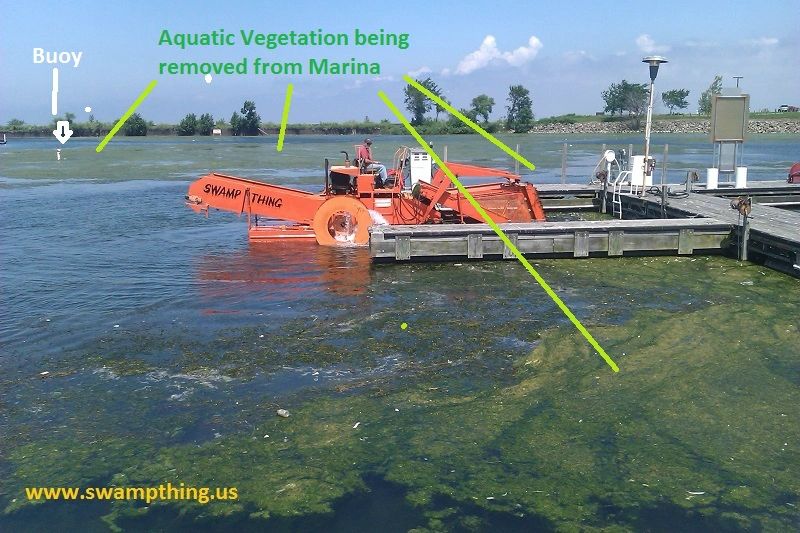 Aquatic Weed Harvesting for the State and the Metro parks.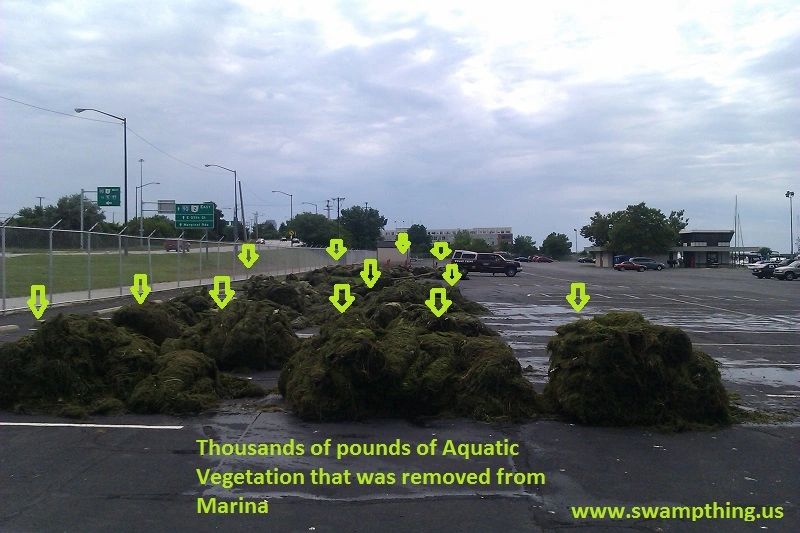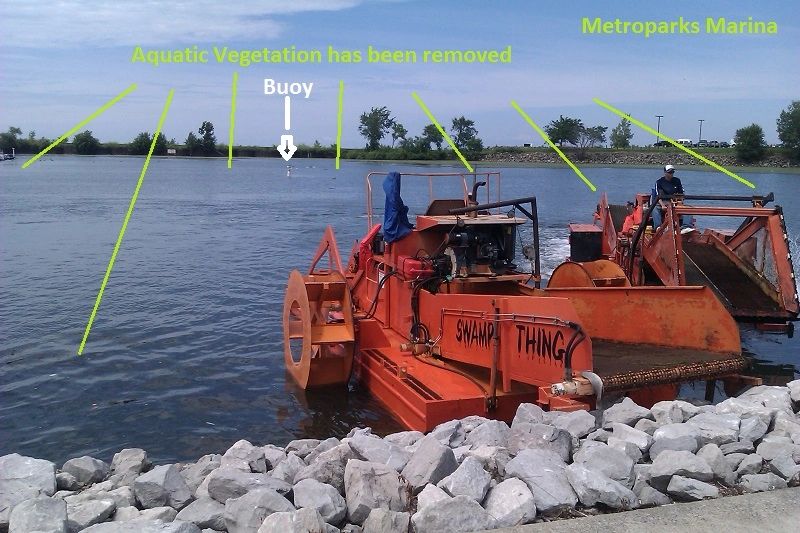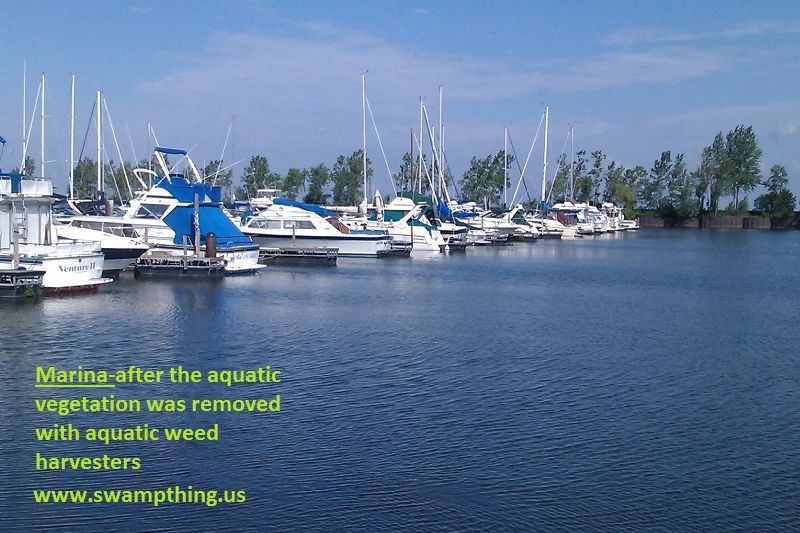 Mechanical Aquatic Weed Harvesting in Marinas in Ohio, Illinois, Missouri, Michigan, Pennsylvania, Vermont and surrounding states can be very selective method of Lake Weed Removal and can be used to only remove a portion of the aquatic plants. In the above pictures we were selected by the state of Ohio to remove aquatic vegetation with our Aquatic Weed Harvesting equipment. The more selective methods can be used to maintain open boat channels through native aquatic plant stands, from docks to open water,

without opening the bottom open to invasion of non-indigenous species

. A lot of Chemicals deteriorate the plant and leave the bottom open for invasive aquatic plant species. Michigan has seen several Aquatic Invasive Species in their lakes. Eurasian Milfoil. Georgia and Florida have problems with Hydrilla. We aquatic weed harvest large projects in Georgia, South Carolina, North Carolina, Texas all over the nation . We can help www.swampthing.us.

Aquatic Weed Harvesting Contractor
American Dredge and Aquatic Weed Control Services, has become the Midwest's first choice for aquatic weed harvesting and dredging. With the largest fleet of Aquatic Weed Harvester's gives us the capabilities to handle large and multiple projects. The White River and St. Joseph River has become infested with Eurasian Milfoil, which has made it hard for good boating access in miles of the river. Our aquatic weed harvesters can cut and remove the vegetation from these areas and then this vegetation is transferred to shore and offloaded onto trailers to be disposed of. We can do the same for you. We work with all government programs/grants, LAR program, IDEM and DNR. If you have a problem call
www.swampthing.us
today. We travel the nation for similar projects commercially and residential. We work with townships and local governments, to develop long term programs for aquatic weed control.
www.swampthing.us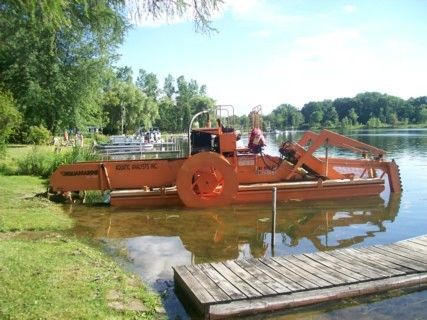 Aquatic Weed Harvesting for the city of Brighton, removing aquatic vegetation within their Mill Pond.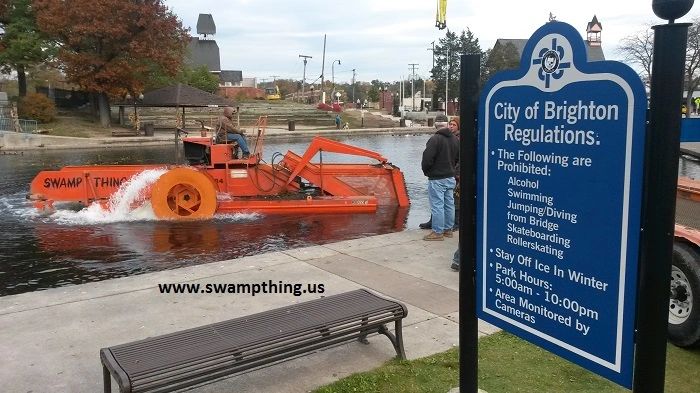 Please Read Below Very Important--to the overall health of your Lake, Pond, Channel:

Alternative to Herbicide use: Lake Associations, HOA, Lake Boards are you tired of paying for expensive herbicide and/or chemical treatments without good results. How bad are the aquatic weeds still after 2 or 3 treatments a year? Do you get a lot of decay, or mass of floating aquatic vegetation that will settle to the lake bottom and a lot that will wash up onto the residents shorelines? This is adding to your problem each year providing more nutrients, for aquatic lake weed growth, ruining fish spawning beds and creating a mucky bottom. Why do think they have warning labels on herbicide treatments! Use alternative methods to herbicides, use aquatic weed harvesting, hydroraking, dredging these are all very healthy alternative methods to herbicide treatment. Think about this for example, Aquatic Weed Harvesting you are cutting the vegetation from the lake, leaving the stem at the bottom (good for fish) and when you remove the bulk of the plant you are instantly opening water ways (not waiting for it to decompose), taking nutrients out of the lake--a healthy balance. But with an herbicide it can decompose the plants, adds to your future weed growth problem, creating muck and nutrients. Also be very careful, too much decomposed aquatic vegetation in a body of water after a herbicide treatment can and has caused "fish kills", in a lot of states. Especially a year with abundant lake weed growth and warm temperatures, you are better off Aquatic Weed Harvesting and removing the mass of the aquatic vegetation, when you have large amounts of vegetation within the water.
Late summer and Fall, a good time to Aquatic Weed Harvest.
Otherwise if you treat a large amount of aquatic vegetation with a herbicide, going into end of summer- fall and leading into winter (you could have a potential fish kill). Once the plant starts to decomposed it takes valuable oxygen to help the decompose process, which can take away from the fish/aquatic life. Instead of using a herbicide here please choose to Aquatic Weed Harvest and remove the mass of the vegetation. Rather than allowing it to decomposed within your lake, which can be harmful (going into the winter months) you don't want to end of with a big fish kill, come spring. Seeing fish all over your shorelines. Call us today and stop using a herbicide treatment, try something eco-friendly.
Let us put together a complete eco-friendly program for you.
www.swampthing.us

What can it hurt, has your weeds gotten worst, do you now have more sediment/muck, has your budget slowly increased each year, because your current company says the weeds are getting worst, (???More nutrients/sediment = more weeds) so you need more chemicals?? We are asking you try something different, use some common sense, try our Eco-Friendly approach. Long term you will be helping your lake, the residents that use the lake and the eco-system that is effected by your lake. Every inland lake is destine to fill it, don't try to speed up the process. www.swampthing.us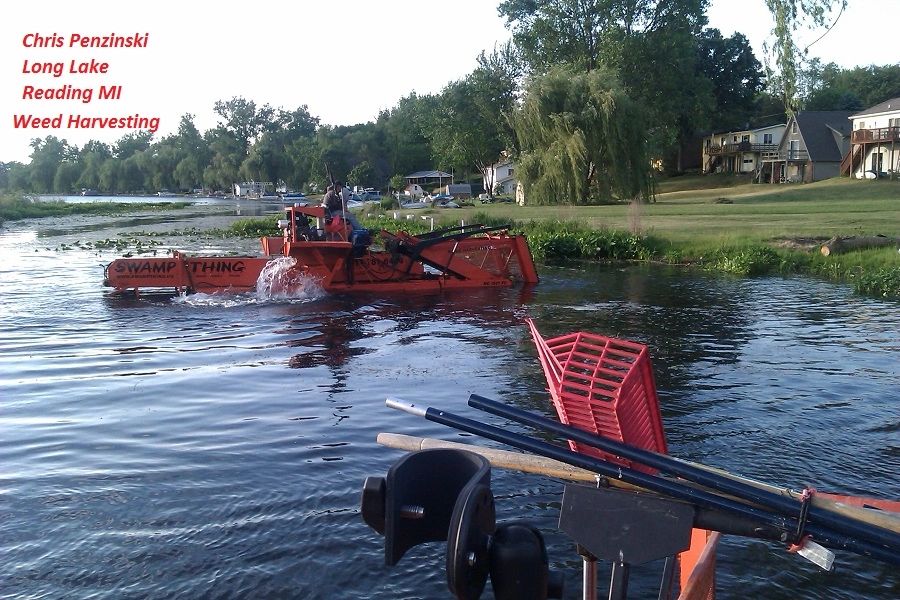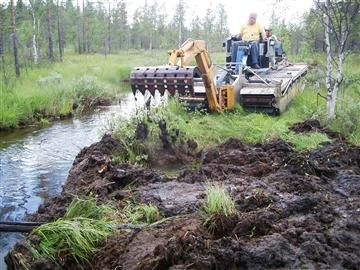 One of our small aquatic weed harvesters used for smaller lakes, ponds and lagoons. www.swampthing.us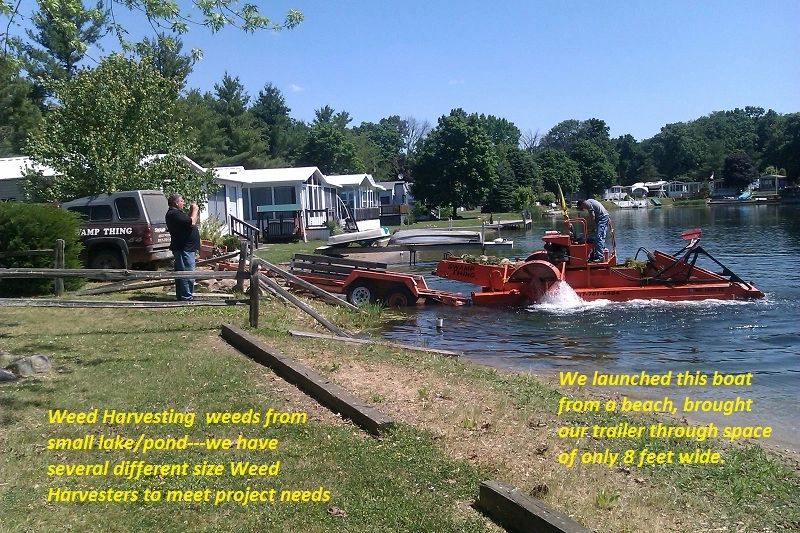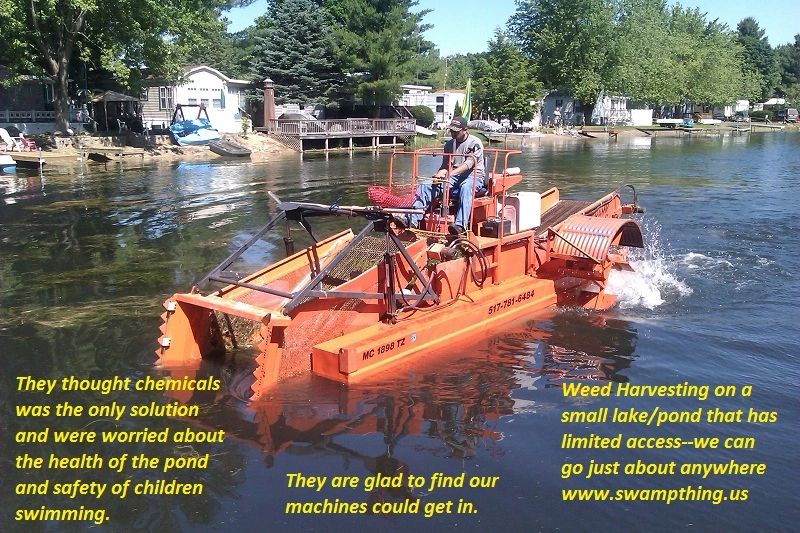 Important for you to read: Aquatic Weed Harvesting how many pounds of weeds are removed?

Note: We recently removed 12 trailer loads of aquatic vegetation from a canal by weed harvesting. The trailer holds aquatic weeds in a approximate area of 22 feet long x 5 feet wide x 3 feet high. If you take this area and divide it into a cubic yard it would be approximately 12.22 cubic yards of vegetation. A yard of mulch weights roughly 300 to 500 pounds per cubic yard. Lets use (for the sake of argument) 300 x 12 cubic yards = 3,600 pounds. Now lets take the 12 loads x 3,600 pounds this will give you 43,200. If weed harvested you are helping by removing a lot of aquatic vegetation mass and helping removing phosphates which promote further weed growth. Now, take that same scenario and treat these aquatic weeds 3 times a year and now add all this decomposed aquatic vegetation to bottom of your lake. You are overloading your lake/pond with too much nutrients and creating a mucky bottom in most cases. Now do this year after year, what is happening to your body of water!! One pound of phosphate can support 1100 pounds of algae growth. Look at loads below. Help stop Algal Blooms, removed the excess nutrients with aquatic weed harvesting.

How Do You Say It?

Aquatic Services in Georgia, Aquatic Weed Services in Michigan, Aquatic Weed Control in Florida, Aquatic Weeds Removal in Illinois, Weed Control in Indiana, Seaweed removal in South Carolina, Aquatic weeds control and removal in Ohio, Aquatic Control in Wisconsin, Aquatic weeds, Aquatic weed control management in Tennessee, Aquatic Weed Managment in California, Aquatic weed harvester use in Indiana, Weed harvesting in Georgia, weed harvester, mechanical weed harvesting in New Jersey, Seaweed Harvesting, aquatic weed rake, aquatic weeds cutter, lake weeds in south carolina, lake weed problems in Illinois, lake weed harvesting in florida, lake weed harvesting in kentucky, lake weed control in Louisiana, lake weed services in TN, SD, WA, lake weed killer for michigan, ohio, indiana, florida, georgia, organic weed killer for georgia, south carolina, tennessee, louisiana, indiana, illinois, california, texas, kentucky, organic weed control in georgia, aquatic weed fabric, weed control fabric or aquatic weed barrier for mi, oh, ga, tn, in, ky, il, wi, . Any Way You Say It you can find the aquatic and dredging services you need with www.swampthing phone: 1-800-649-7946

Aquatic Weed Harvesting in Georgia, South Carolina covering the entire south
Aquatic Weed Harvesting experts - American Dredge has become the areas first choice to remove the aquatic vegetation from your lake, reservoir, lagoon, water treatment facility or pond. Our company will travel anywhere for Large Weed Harvesting Project we have the equipment and expertise to handle your larger projects when others can't. Eurasian Milfoil, Elodea and Hydrilla has become a problem in a lot of the areas lakes. Our Aquatic Weed Harvesters can cut and remove the vegetation the same day giving instant access. A lot lake boards, associations have tried herbicides or dropping water levels and have been very unsuccessful but with aquatic weed harvesting you get instant removal. Herbicides decompose the hydrilla adding decomposed biomass to the lake floor adding nutrients which is like fertilizing your own crop. Why can't you swim after herbicide treatments?? Is it harmful?? One pound of phosphate can support 1100 pounds of algae. Aquatic Weed Harvesting has proven to open choked waterways giving better boating access, without the harmful effects of herbicides. At least with aquatic weed harvesting you can maintain your waterways and enjoy your lake. We also work with power companies to clear waterways to help improve water flow. Please contact American Dredge and Aquatic Weed Control Services to control your vegetation problem today whether your in georgia, south carolina, north carolina, louisiana, Kentucky, Wisconsin - anywhere, we have the equipment to take care of your needs www.swampthing.us phone: 1-800-649-7946 email: manager@swampthing.us.

Please review some of our other pages we have dredging and hydro-rake machines to dig up lily pad root systems, phragmites removal, Cattails, specialized amphibious equipment that goes from land to water. www.swampthing.us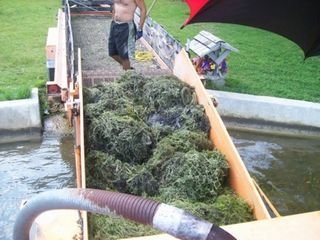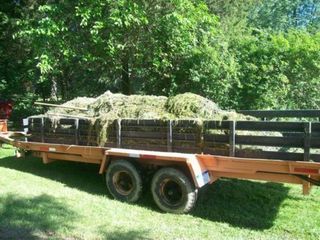 Special equipment to remove cattails and phragmites covering the Midwest: Michigan, Ohio, Illinois, Wisconsin and Indiana. We also have additional offices nearby, removing emergent vegetation in southern states Georgia, South Carolina, Kentucky. If you have a problem we will travel and take care of your aquatic needs. www.swampthing.us