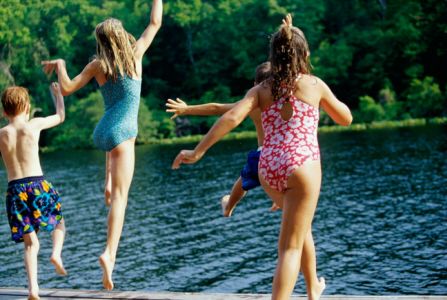 We are a Aquatic Weed Control and American Dredging Company. Our goal is to provide Aquatic Weed Control Services, Aquatic Weed harvesting, Lake Weed Control & Removal, Dredging and Aquatic Weed Services (Removal and Prevention of Lake weeds). Using equipment and programs that are safe for your family and the environment. We provide Mechanical and Hydraulic Dredging services. Providing dredging for marinas, lake dredging, channels, harbors, canals, commercial ponds/lagoons, waste treatment facilities, Lake Association projects, State, Local Government, private residential dredging and dredging of hunt clubs. Nationally recognized.

Also Offering Aquatic Control & Dredging Consulting services.

Please look at our Dredging and Aquatic Lake Weed Control and Removal equipment/services on the following pages. We Also offer Natural - Organic Lake Weed Control & Removal options.
We Care About You & Our Environment!

We have offices and representatives covering all the Northern and Eastern and Southern states. We can assist you with Aquatic Vegetation Control and Dredging services with efficient services in the following states: MO,MI, IN, OH, IL, WI, MN, TN, KY, WV,VA, LA, AL, MS, MO, TX, GA, FL, SC, NC, PA, NY, VT, MT, OK, ND, CO......CA. Nationwide all 50 states. Call Today us today let our Northern, Southern, Eastern and Midwest offices take care of your needs before the weeds get out of control this summer or provide dredging services to greatly improve your body of water for the season ahead.

For 2020 Aquatic Vegetation and algal blooms are expected to be very bad this year due to the abnormal mild winter we have had across the United States. Also with the Hot summer temperatures the weeds are going to be abundant. HOA's, Lake Boards, City and Township councils we advise you to plan earlier rather than later. We have one of the largest fleets of Aquatic Weed Harvesters and if you would like to plan ahead we recommend you schedule your dates with us now, because based on prior years the outcry for aquatic vegetation removal will be large this year. Even with people that may get herbicide treatments, most of them will still need aquatic weed harvesting done by us. If you have had a problem in the past with Curly Leaf Pond Weed (Potamogeton Crispus), a lot of the North/Eastern states like MI, IL, WI, MN.....VT, NY, PA you should call now.

Curly Leaf Pond Weed (Potamogeton Crispus )

Curly-Leaved Pondweed is a hardy, aggressive non-native plant. Curly Leaf is usually the first macrophyte to emerge in the spring but dies back about July (causing other problems). Reproduction: Potamogeton Crispus reproduces mainly by turion production. Potamogeton crispus has a rather unusual life cycle. Fruits, turions and seeds are produced in late spring/early summer and by July, Curly Leaf Pondweed has died back. The fruits and turions survive all summer and germinate in the fall. The new plants grow to a few centimeters tall and over the winter in a dormant state, even under the ice. In the spring the small plants already have a head start on other native macrophyte and can quickly form dense stands. Note: We Have Had a Mild Winter, these and other plants are getting an early start!! Call us now to lock in dates to allow us to weed harvest the mats of curly leaf and help significantly remove the plant mass/turions. Which will overall help reduce the amount of decomposed mass and turions allowed to spread in your body of water. Remember when the plant decomposes early in the summer, it also allows for nutrients for other invasive plant life within your body of water, like Eurasian Milfoil, or coontail, etc. When curly leaf dies back in July, and when the dense mats decay, the available oxygen in the water may be depleted. This resulting low oxygen conditions (Anoxic) can lead to fish die off and harm other aquatic organisms. Nutrients released from the decaying plants may also contribute to algal blooms and accelerate other plant species. (Similar process happens when you spray a herbicide on aquatic plant life, you are not removing, but causing the plant to decompose, adding nutrients in the body of water, to promote other future weed growth).

If you have Curly Leaf Pond Weed or Lake Weed problems in the past: Illinois, Michigan, Ohio, Missouri, Iowa, Indiana (nationwide offices) please consider scheduling early before your stuck with a big problem this season.
Our Aquatic Weed Control / Harvesting and Dredging company has unique equipment and it does not matter where you are located, we may already have equipment near you to do your project asap if you are in urgent need or if it has to be done relatively soon, contact us and send us an email describing your project, Whether it be aquatic weed harvesting, or cattail aquatic weed removal or dredging and/or sediment removal we can assist you.

Sothern Locations: We are looking for clients with aquatic vegetation problems and or dredging or sediment removal in Southern states: Missouri, South Carolina, North Carolina, Georgia, Florida, Tennessee, Mississippi, Louisiana, Arkansas, Texas, etc. . If you have an over abundance of lake weeds on your waterway please email us and tell us of your situation. Do you and your neighbors have a hard time getting your boats in/out of your dock because the aquatic weeds are too thick or depths full of sediments and too shallow? Does the lake weeds make it difficult to enjoy fishing, boating, swimming or the view? Please tell us of your situation, which lake your on and if you know of others in your area that have a similar problem. Receive a discount if you schedule your southern Dredging or Hydro-rake project for the upcoming fall/winter. We also have equipment that can remove cattails, phragmites, purple loosesrife....to name a few.

We do offer discounts for projects in the southern states during the Months of December through March call us or email us today so we can discuss and plan out your project. If you already have a bid let us know and see if we can provide you with the best pricing possible.

Here are a few pictures from aquatic weed harvesting and aquatic weed removal in Mississippi, (close to Louisiana, Alabama, Tennessee, Arkansas).

Below are before pictures before our company used our aquatic weed harvesting equipment to remove the aquatic vegetation on private property in a Mississippi lake.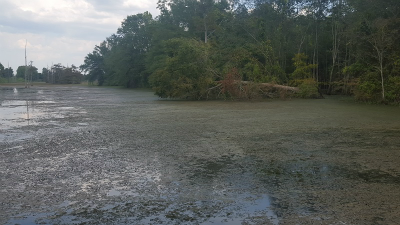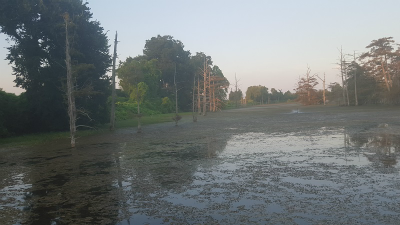 Below are pictures showing the excellent improvement our aquatic control company did removing the invasive aquatic vegetation that covered this entire lake. They most likely would have had a large fish kill come winter. But with our aquatic vegetation control services we were able to assist this southern lake.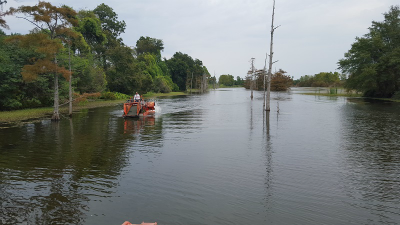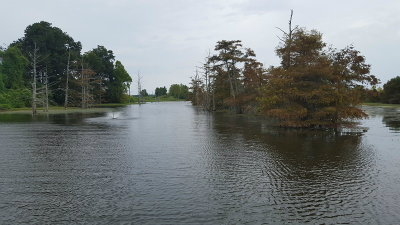 Here are a few pictures from aquatic weed harvesting and aquatic weed removal in Missouri, Iowa area, (close to Kansas, Illinois where we also perform weed harvesting and dredging services).


This is just one area, of many large areas on the lake in Missouri that needed aquatic weed harvesting of the lake weeds removed in order to improve the lake so thousands of people can enjoy the Missouri lake for summer time fun and recreation. Also making a huge positive impact on the overall health of the waterway long term. Overall making a positive financial improvement for the businesses that earn a living from these waterways, because if people can enjoy the waterway, they will want to come back, tell their friends and in return will rent cottages, spend money on renting boats, kayaks, eating at the nearby restaurants, shopping at the nearby stores, etc... contact us today at 1-800-649-7946 or send us an email at: manager@swampthing.us to make a very positive impact on your waterways! (Missouri, Iowa, Kansas)….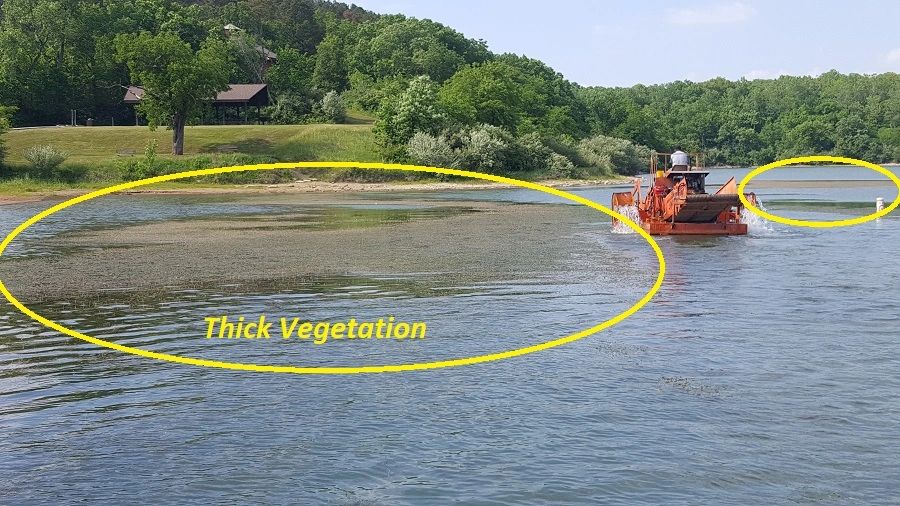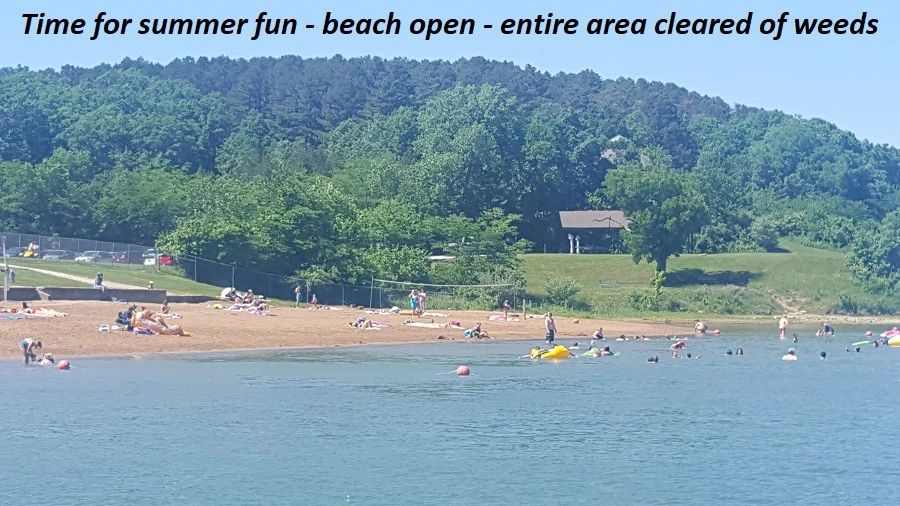 Aquatic Weed Harvesting get your weeds removed immediately. In most states you do not need a permit for Weed Harvesting. If you are waiting for a herbicide permit but have a problem with aquatic vegetation, don't wait call us and we can provide lake weed control and removal of the weeds, opening boat lanes in canals, through the lake or in back bays--- that are covered in vegetation or algae. We cut the weeds and remove them from your body of water, instant boating access, swimming, fishing. Let the experts Remove and Control your pesky Lake Weeds. www.swampthing.us


We are looking for clients with dredging concerns and milfoil, curly leaf pond weed and other aquatic vegetation problems in Northern and Eastern states. If you have an over abundance of sediments or lake weeds on your waterway please email us and tell us of your situation. Whether your in Illinois, Wisconsin or in Pennsylvania, New York or Vermont we have sub-offices with a lot of equipment that can assist you. Do you and your neighbors have a hard time getting your boats in/out of your dock because the aquatic weeds are too thick? Is it too shallow because of too much muck or sediment build up? Does the lake weeds make it difficult to enjoy fishing, boating, swimming or the view. Please tell us of your situation, which lake your on and if you know of others in your area that have a similar problem.

Recent aquatic weed harvesting project in Illinois area, not too far from Wisconsin, also our aquatic weed harvesting / control company did a similar aquatic weed removal project in Indiana. This lake was completely covered with aquatic vegetation. If they would have sprayed this with a herbicide, there most likely would have been a fish kill. Here are a few pictures where we removed aquatic vegetation in a several lakes on a private lake community in Illinois. We have sub offices and cover the nation and handle projects likes this.

Below you can see the lake is completely covered in aquatic vegetation. By the time were finished the majority of the weeds we removed and people could actually fish again and enjoy boating again. We can do the same for you no matter where you location is, call us and we can help.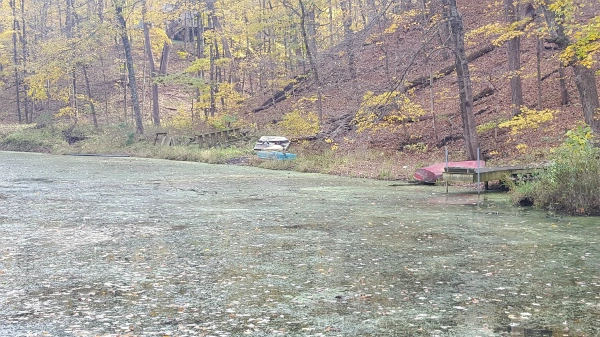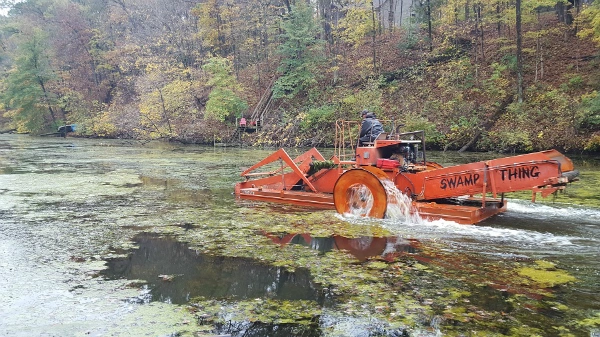 Aquatic weed harvesting company doing business in Illinois, before and after picture below.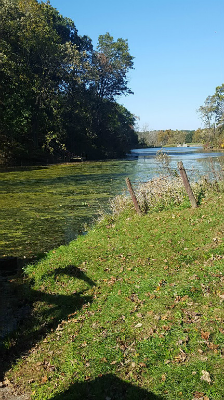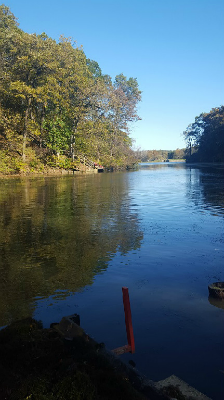 After the aquatic vegetation was removed. Piles and piles of vegetation removed from lakes in Illinois.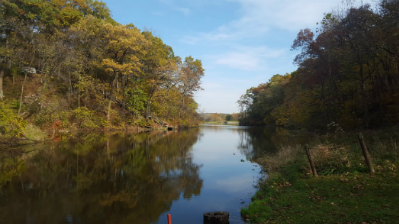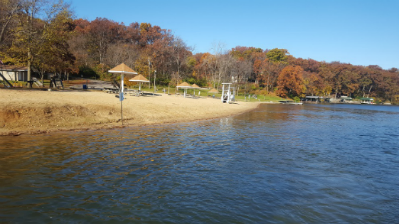 Aquatic Weed Harvesting and Removal can be helpful come fall to deter fish kills and algal blooms.
Have you had a Fish Kill in the past or about to because you have too much vegetation in your lake or pond leading into fall and going into winter. Let us come aquatic weed harvest your pond or lake. Too much vegetation in the water can take away valuable oxygen during the colder months and can lead to a big fish kill especially if we have a cold winter. Let us come out and weed harvest and remove the abundant vegetation from your lake this fall or early winter before it's too late. Herbicides could cause further problems going and/or leading into winter if there is a lot of vegetation mass in the water. This vegetation will decompose which also takes oxygen to help assist with the decompose process. Weed Harvesting can be a useful tool in the fall to help deter fish kills.


During a Lake Weed Harvesting project:
When we use one of our weed harvesting trailers to transfer aquatic vegetation, on average will remove about 3 yards of aquatic vegetation per load. A yard of mulch is 300 pounds per cubic yard, a yard of topsoil is about 1,500 hundred pounds. Let's use (for the sake of argument) 300 pounds x 3 cubic yards = 900 pounds. Now let's take the 8 loads x 900 pounds this will give you 7,200 pounds of material per day. If you weed harvest for 5 days, 10 + days, you are helping by removing a lot of vegetation mass and helping removing phosphates which promote further weed growth. Therefore when you weed harvest you are helping by removing a lot of vegetation mass and helping removing phosphates which promote further weed growth. Now, take that same scenario and treat these aquatic weeds 3 times a year and now add all this decomposed vegetation to bottom of your lake. You are overloading your lake/pond with too much nutrients and creating a mucky bottom in most cases. Now do this year after year, what is happening to your body of water!!Too much nutrients in the water from the decomposed vegetation a lot of time causing Algal (algae) blooms. Have you noticed a lot of algae after an recent herbicide treatment?

Algal Blooms - Harmful algal blooms are a major environmental problem in all 50 states. Blue-green algae, red tides and cyanobacteria are examples of harmful algal blooms that can have severe impacts on human health, aquatic ecosystems, and the economy. Algal blooms can be toxic. Keep people and pets away from water that is green, scummy or smells bad. Call us to help remove this overabundant aquatic vegetation that the algal feed off. Let us help prevent and control your algal blooms or algae problems whether you in OH, MI, IN, IL, WI,MN, IA,MO, KY, GA, PA, VT......MT, CO, ID, WA, CA. www.swampthing.us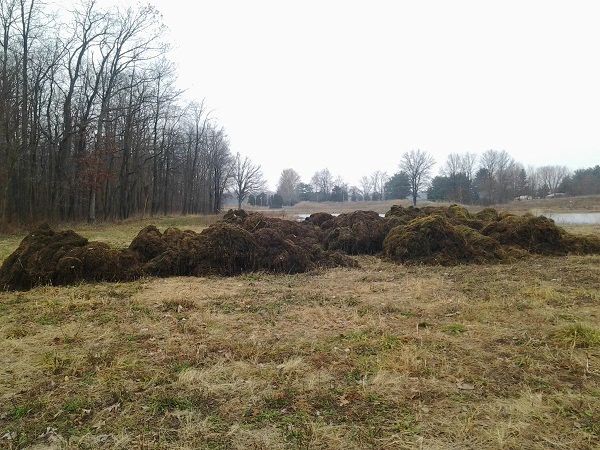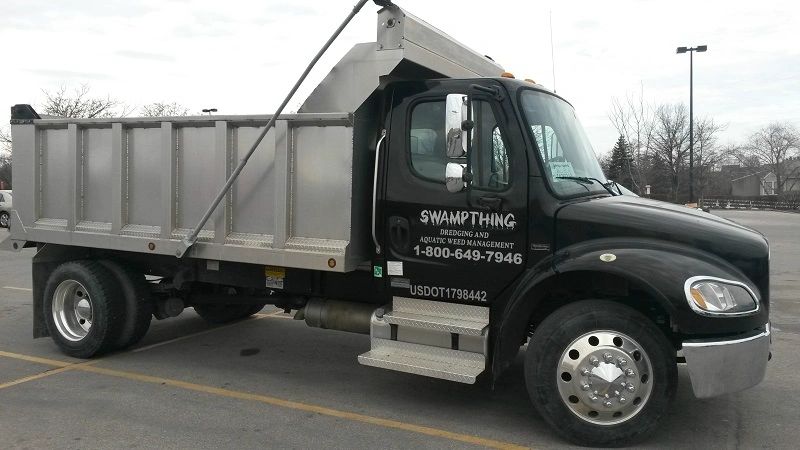 American Dredge will Travel almost anywhere for Weed Harvesting, Dredging, Cat-tail Eradication, Phragmites Control, Wetland Restoration, Beach Restoration, Lilly Pad Harvesting and Removal. U.S. and Canada. Even special projects overseas. Private Lakes and Hunt Club. www.Swampthing.us

Dredging the Real Answer to Aquatic Weed Control. Remove years of nutrient rich sediment. Which causes weed growth. Are you too shallow, with a lot of weeds. You need to dredge, add depth which can deter weed growth. You will get less sunlight penetration, less weed growth. Have you been spraying chemicals for years and adding decomposed vegetation to the bottom of the lake, slowly losing depth--better sunlight penetration, adding nutrient rich sediment, possibly causing algae blooms. As the weeds decompose they take oxygen from the water. Again think about dredging as the real answer. You will be able to add depth and remove years of sediment build up. It's the first step to a healthier lake and eliminating your weed problem. We understand some companies first choice is to use chemicals/herbicides but we believe it is not best for the environment! What is it killing? We try to avoid using chemicals when possible. It may seem cheaper in the short term but long term you are adding sediments to the bottom, which will causes you to have to dredge.




Please Read Below Very Important--to the overall health of your Lake, Pond, Channel:
Alternative to Herbicide use: Lake Associations, HOA, Lake Boards are you tired of paying for expensive herbicide and/or chemical treatments without good results. How bad are the weeds still after 2 or 3 treatments a year? Do you get a lot of decay, or mass of floating vegetation that will settle to the lake bottom and a lot that will wash up onto the residents shorelines? This is adding to your problem each year providing more nutrients, for weed growth, ruining fish spawning beds and creating a mucky bottom. Why do think they have warning labels on herbicide treatments, use your own common sense. Use alternative methods to herbicides, use weed harvesting, hydroraking, dredging these are all very healthy alternative methods to herbicide treatment. Think about this for example, during Weed Harvesting you are, cutting the vegetation from the lake, leaving the stem at the bottom (good for fish) and when you remove the bulk of the plant you are instantly opening water ways (not waiting for it to decompose), taking nutrients out of the lake--a healthy balance. But with an herbicide it can decompose the plants, adds to your future weed growth problem, creating muck and nutrients. Think about it, you may have once had clean sandy lake bottom with little weed growth. As you use more herbicides/chemicals, you decompose the vegetation, this is going to go somewhere, then it can start to cover your once clean areas, with a layer of decomposed organics overtime. Weeds are going to grow in this area now because of the abundant organics (good soil) that may once had limited weed growth. Also be very careful, too much decomposed vegetation in a body of water after a herbicide treatment can and has caused "fish kills", in a lot of states. Especially a year like this year, you are better off Weed Harvesting and removing the mass of the aquatic vegetation, when you have large amounts of vegetation within the water. Late summer and Fall, a good time to Aquatic Weed Harvest - don't let all the vegetation decompose for next years growth.. Otherwise if you treat a large amount of vegetation with a herbicide, going into end of summer, fall and leading into winter: once the plant starts to decompose it takes valuable oxygen to help the decompose process, which can take away from the fish/aquatic life. But for example if you have a lot of vegetation at the end of the summer, fall (which is coming soon): you are better off Weed Harvesting and removing the mass of the vegetation, rather than allowing it to decomposed within your lake, which can be harmful going into the winter months, you don't want to end up with a big fish kill, come spring. Seeing fish all over your shorelines. Call us today and try something eco-friendly.

New we are looking for clients with dredging concerns and milfoil, curly leaf pond weed and other aquatic vegetation problems in Northern states. If you have an over abundance of lake weeds on your waterway please email us and tell us of your situation. Do you and your neighbors have a hard time getting your boats in/out of your dock because the aquatic weeds are too thick. Does the lake weeds make it difficult to enjoy fishing, boating, swimming or the view. Please tell us of your situation, which lake your on and if you know of others in your area that have a similar problem.

American Dredge Eco-Friendly Challenge (Our Environment has drastically changed-let us help!)
Lake Boards, HOA's, Lake Associations, Townships---Stop the old way of thinking. Do something New, make changes now for next season. Don't sign up for the same old Herbicide or Chemical Treatment, is it a wasted effort, you do have great options. Let us put together a complete eco-friendly program for you. What can it hurt, has your weeds gotten worst, do you now have more sediment/muck, has your budget slowly increased each year, because your current company (Big and Small companies using same bad theories and processes) says the weeds are getting worst, (chemical = decompose plant = more nutrients/sediment = more weed growth) so you need more chemicals??
Are you having Algal Blooms each year? Having a lot of algae blooms: Algal Blooms - Harmful algal blooms are a major environmental problem in all 50 states. Blue-green algae, red tides and cyanobacteria are examples of harmful algal blooms that can have severe impacts on human health, aquatic ecosystems, and the economy. Algal blooms can be toxic. Keep people and pets away from water that is green, scummy or smells bad. Call us to help remove this overabundant aquatic vegetation that the algal feed off. Let us help prevent and control your algal blooms or algae problems whether you in OH, MI, IN, IL, WI,MN, IA,MO, KY, GA, PA, VT......MT, CO, ID, WA, CA. www.swampthing.us If you sign a contract with us we will put a program together for you. We are asking you try something different, that makes some common sense, try our Eco-Friendly approach. Long term you will be helping your lake, the residents that use the lake and the eco-system that is effected by your lake. Every inland lake is destine to fill in, don't try to speed up the process. Try our approach, lets discuss what your current budget is for your aquatic control programs. You have been trying herbicides for years, with poor results, adding sediments/ muck to bottom of your Lake and overloading your lake/pond with nutrients. It is time for something new and healthy for everyone. (go to lake weed removal page for additional information).

Let us Beat your Current Pricing: for Weed Harvesting, Aquatic Weed Control and Dredging Pricing

We will handle DNR permits, MDEQ permits, Fish and Wildlife permits when choosing our services

Do you have a project that needs done or you want done ASAP: Dredging, Weed Harvesting, Hydro-raking, Clean up projects etc., please contact us at 1-800-649-7946 and leave a message if after hours. We will contact you the same day, please inform us that this is something you need fast and what date by. We have a team that travels to your location whether it is in MI, IL, OH, IN,WI, IA, MO,TN, KY, GA, SC, NC, FL, CA anywhere. We have offices in other states.

Click on the link below to see a showing two of our machines collecting and offloading aquatic vegetation
https://www.youtube.com/channel/UCta3XcfJhx9vhplsj9t5tlw

Michigan State University
has selected
SwampThing.us
to remove/control Aquatic Weeds on Lake Ovid, for the Big Ten Championship NCAA on May 1, 2010. For the 2010 season,
MSU
returns 13 rowers and two coxswains that helped the Green and White finish sixth at the 2009 NCAA National Regatta. Back-to-back Big Ten Champs... MSU earned its second-straight Big Ten title - and third in five seasons - after accumulating 137 points on Griggs Reservoir in Columbus, Ohio, on May 2, 2009. Both MSU's varsity eight and second varsity eight earned top honors at the event, accounting for 105 of the team's 137 total points, helping them edge second-place Michigan, which finished with 126 points. The Spartans became only the second team in Big Ten Championship history to win back-to-back team titles and the win by the varsity eight also marked the second-straight Big Ten title for that crew as well. The second varsity four and second novice eight also earned medals on the day, each taking home the bronze in their events.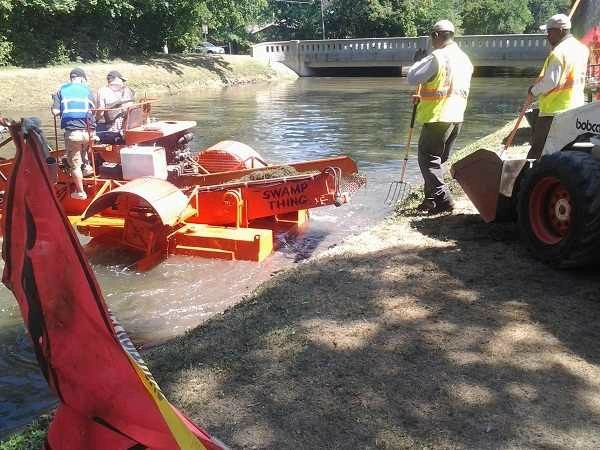 Citizens Energy Group has called upon Swamp Thing aquatic weed control services, to help remove the over abundance of Aquatic Vegetation from the very publicized 7 mile canal. "Citizens Water is taking other precautions. It has stepped up weed cutting along the Central Canal, which Considine said is "important to maintain the flow of water" down the canal to the White River Treatment Plan near 16th Street. The Central Canal is a primary water source for Downtown Indianapolis." Citizens Water is an integrated water and wastewater utility established through the acquisition of the systems from the City of Indianapolis. Citizens Water provides water service to more than 300,000 households in Marion County and the surrounding counties. Citizens Water also supplies water to area communities with their own water utilities including Speedway, Brownsburg, and Lawrence. Citizens Water provides wastewater services to more than 230,000 households in Marion County. It also has wastewater service agreements with Ben Davis Conservancy District, Boone County Utilities, City of Beach Grove, City of Lawrence, City of Greenwood, Hamilton Southeastern Utilities, Inc., and Tri-County Conservancy District. Contact
www.swampthing.us
for all of your needs to help you with similar situations.
Enbridge (a fortune 500 company) called upon SwampThing.us to help with oil spill clean up efforts on the Kalamazoo River in Marshall, MI. Swampthing felt it was very important to help as much as possible in this Natural Disaster, that was in there home state of Michigan. At first it was thought that the equipment would not be able to get into the river or handle the current. But everyone soon learned because of Swampthings' experienced and professional staff they were able to concur the odds. A lot of men and women worked around the clock to help contain the oil. There were times of intense heat and abnormal conditions, but people from all over the country came together to work towards restoring the Kalamazoo River and the watershed around it. There is still a lot to do, may God watch over these ongoing efforts.




Professional Lake Management (PLM in IN, OH, MI, TN, GA) for Residents, Lake Associations:

All inclusive Aquatic Weed Control Company--one stop. Let a company that cares about you and the environment put a lake plan in place to properly oversee your Aquatic Weed Control Needs and/or Dredging Needs. Too many companies do what is best for thier financial bottom line, we suggest and provide a combination of programs that is best for your body of water, your budget. We care about our customers and the long term health of your lake/pond/canal. Weed Harvesting, Hydro-raking, invasive aquatic weed control, dredging and herbicide control--we don't feel it should be your first choice but can be necessary. We offer solutions that others can't because we have developed specialized equipment for treatment and removal of aquatic weeds. We have it all.
Aquatic Weed Harvesting/Aquatic Weed Removal-results in immediate open areas of water. Usually most lake fronts need lake weed removal 2 times a summer. Just like your grass grows, so do your lake weeds. We Weed Harvest all of Michigan, Indiana, Ohio, Illinois, marinas, private lakes and ponds. We also work in kentucky,georgia, south and north carolina etc. Get more information on the benefits of Weed Harvesting go to our Aquatic Weed Harvesting page. We can crane set our machines if we need to into private ponds, lakes, water treatment plants, etc.
For years Walled Lake Thunder Hydroplane Boat Races out of Novi, MI has contracted the professionals at Swamp Thing Aquatic Weed Control Services to cut and remove the aquatic vegetation to make the boat race an success each year. Too much vegetation can cause the boats to have mechanical problems and potentially cause accidents. This year was no different, the weeds were bad but because of the constant efforts of the Swamp Thing crew, the waterways were ready for this highly anticipated, fast paced boat race. Great time to be on the beach and watch the race at this annual event, usually in early June each year. Jim Sechler, World Record holder Hydroplane Boat Racer said, "The guys at Swamp Thing do a great job for us every year and we really apprecaite how hard they work to help make this race an success each year".
New Amphibious Aquatic Harvester going from land to water. Get into areas a normal Aquatic Weed Harvest can't-we can open weed infested channels, rivers, coves, lagoons, ponds, inlets instantly. Our machines weed harvest the weeds and remove them from the water the same day.Call us today. No need to wait for chemical application to start breaking downs weeds and then still can't get through with a boat. We cut/harvest the lakeweeds you can start using that open water the same day. Especially late in the summer when you need immediate results. Weed Harvesting is the best answer. We can go AnyWhere!

Cattails and Lily Pad Removal/Harvesting--We can cut down large sections of Cattails and open your view to your waterfront. Are tired of lily pads and cattails taking over your pond or lakefront, our specially designed Hydro-rake machine can dig out root systems to regain your pond or lakefront. Afterwards we can create a beach or add a weed barrier. Cut by hand if we need too. We can remove lily pads from your ponds in michigan, indiana, illinois, ohio, iowa, kentucky, georgia, tennessee, south carolina all over the nation. Contact www.swampthing.us.
Phragmites removal and treatments with our unique machines help control invasive aquatic plants.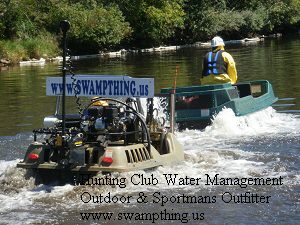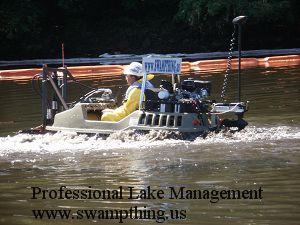 DREDGING/Hydro-Raking- Dredging Concerns? Swampthing.us can add depth to your Canal /Channel /Pond, or Lakefront. In between boat slips of Marinas. Take a look at our dredging page. We have all the equipment to fit the job. We have several types of options for dredging: Mechanical Dredging, Hydraulic Dredging, Long Reach Dredging, Suction Dredging. Some of our equipment is very unique, you will not find with other Dredging Companies. We can get into places where other dredging contractors can't. We can crane set our machines if we have to, into smaller ponds or lakes. Which we have seen a lot in Michigan, Indiana, Georgia and Ohio. That might have none or poor access. Call us for all your Pond Dredging, Marine Dredging and Lake Dredging, Canal Dredging and Channel Dredging needs. We have the best varity of dredging machines, we can dig when others can't. NOW IS THE TIME TO PLAN OUT PROJECTS-EMAIL US! We handle DNR permits with service.
Muck Removal and Sediment Control in Ponds and large or small areas, Swampthing can use a special machine that sucks or vacuums the sediment or muck off the bottom of the pond or lake. Large areas it is best to dredge/hydro rake. Pond dredging experts.
Please note that it is important to maintain and protect Native Aquatic Plants through proper Aquatic Management techniques. We try our best to work with local DNR, DEQ, Lake Boards and Watershed Coordinators to do what is best for each Lakes' Ecosystem.

This is a Start of a Project .....pictures of AQUATIC WEED CONTROL & REMOVAL-- Hydro-rake



Don't be scared of permits We can handle DEQ/DNR/IDEM or any permits for you. ...End of the Project
Call American Dredge for dredging Ponds, Waste Water Treatment Plants, Lagoons, Hunt Clubs, Golf Courses, Campgrounds, Marinas, Wetland Restoration, Private Lakes we have equipment like no other we can dig anywhere, where others can't. We can get into tight or shallow spots. Look at this equipment and realize we can use it for your special project. We will travel anywhere!

This machine can dig anywhere. Great for working at private hunt clubs and ponds. Improve wetland areas.Hunt club experts.
Lake Scaping--A more natural approach to shoreline landscaping and reintroduce Native Aquatic Plants into our waters.Go green, go organic is one of the best forms of natural erosion control.

Think About Early Spring and SUMMER PROJECTS NOW!! Plan ahead, especially if permits are needed--Remove the roots of aquatic plants. Adding sand to your lake front/pond. Remove weeds which reduce biomass on your lake floor. Put up leaf barriers in the fall, extremely important to prevent weed growth. Get more information on our Aquatic Products page.

Algal Blooms Let us help with a variety of services and products: Water Aerations-Fountains, Aqua Blaster, Diffusers - by adding Oxygen to the water fish and water quality improve. Oxygen helps generate beneficial bacteria that consume nutrients that algae use to grow. Also the Aqua blaster will keep floating lake weeds out of your boat well. Does your water look like pea soup? Call us!
New Geese Deterrent--safely prevent, keep off Geese on your shoreline, grass, boat docks, swimming rafts several products to choose from. The Goose Be Gone TM will allow you to keep geese away, get rid of geese off your shoreline, sidewalks, swim raft, off your lawn. Also we have been told by clients The Goose Be Gone TM and Redneck Crittor Gettor TM are some of the best products in the world to keep deer out of a garden, keep ducks, geese, seagulls, pelicans, raccoons, squirrels, off or out of areas of a yard. Get rid of geese, ducks, seagulls off your lawn, or off your green grass (all that nasty goose poop). Pricing for these units are $125, with additional options. Have you tried the rest, now try the best.
Keep Geese off your swim platform, or off your swim raft with this unique product is like no other with the

Redneck Crittor Gettor

TM . Are you tired of all the geese, duck, seagull or pelican poop on your swim raft. Then keep them off your dock or swimming raft with this portable unit. It's absolutely amazing goose, seagull or waterfowl deterrent. Call or email for details, pricing for these units average $145, depending on chosen options. Customers have using it also to keep away the neighbors cat, or dog - It's a great product!

Watershed Programs and Workshops--"Managing Your Shoreline for Lake Ecology" partnering with USDA's office.

Private Hunt Club and Waterfowl experts-Let us help improve your pond and waterways. Dig out problem areas of vegetation or sediment. We have special custom made Amphibious Machines to clean up anywhere on your property. We will travel anywhere, this is more than a job we love what we do.We like improving habitat for waterfowl, improving watering areas for turkey, deer, elk.With our specialized equipment (water conveyor, rakes, digging heads, barges etc) we have the capabilities to improve spawning areas for fish by removing sediment and adding pea stone or sand. Our conveyors/Aquatic Swamp Things (boats) can move across the lake or pond anywhere and deliver sand/stone to the exact spot you want to create better fishing habitat. Aquatic Vegetation let us Hydro-rake/dig out problem areas of invasive species (Eurasian Milfoil) and put native plants in their place. We can add land bridges where you need them our machines can be launched or crane set anywhere.Our paddle wheels give us the capabilities to move in inches of water. We will travel anywhere if it can be a mutual benefit. Sometimes we may give discounts for excellent hunting/fishing.
Excavating--We have equipment that can be rented. We have a 60 foot Long Reach Excavator, that can be rented, based on availability. We have dump trucks, skids steers, etc
We Love the Great Outdoors and try to get as much time with family and friends to appreciate this wonderful gift from God.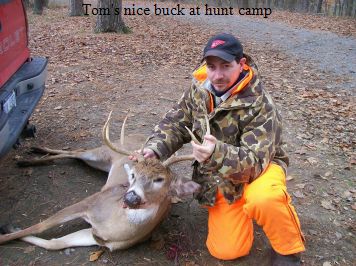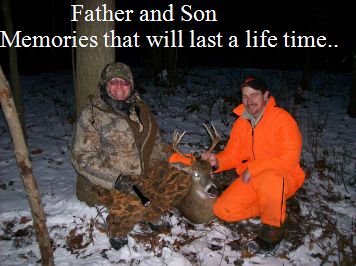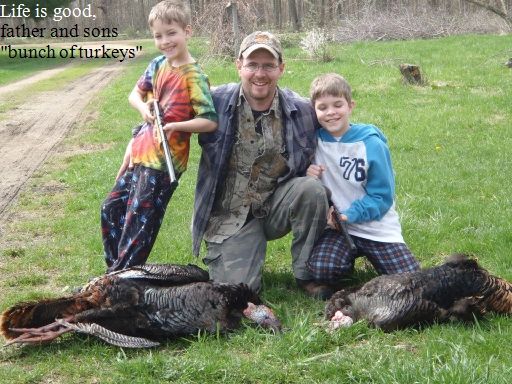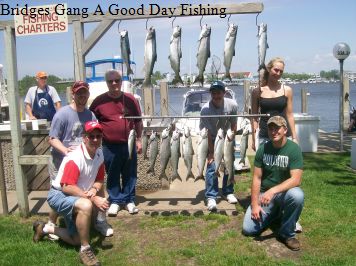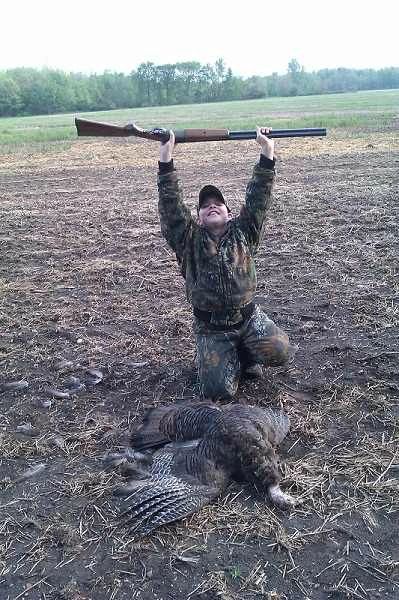 Hunter's first yea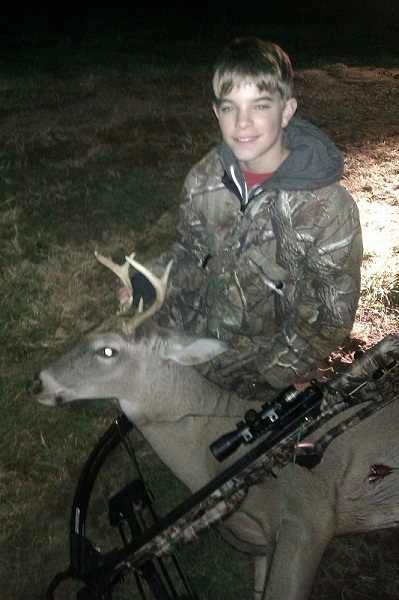 r of hunting and he is coming quit the sportsman shooting his first turkey in the spring. Then later in the fall he was fortunate enough to shoot his first deer with a crossbow, the deer only went 20 yards and Dad was lucky enough to be there for both of them.













We Love Family Time at Deer Camp
Hunters first buck with a gun in 2013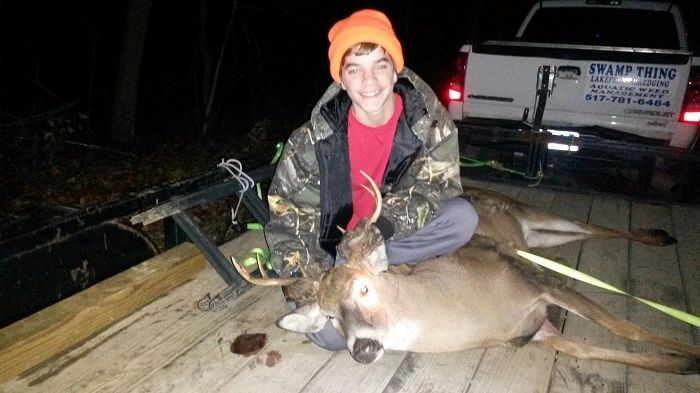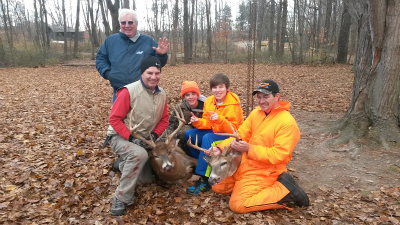 Let us develop a long term program together, that will provide you with improved water quality, cleaner shorelines and lasting scenic beauty. Call someone that cares about you, the environment and not just out to make a quick dollar.

Home Office located in Branch County. Covering all of Michigan, MI, Ohio, OH, Indiana, IN, Kentucky, KY.
New offices in Oxford Georgia --Covering all of Georgia, Tennessee,Tn, South Carolina, SC, North Carolina, NC
Indianapolis Indiana--Covering Indiana, Ohio, Illinois, Kentucky
DREDGING anywhere --WI, PA, ND, SD, ID, WY, IN, OH, IL, KS, CO, TN, KY and GA. Even out of the Country.

We have 60 foot Long Reach dredging & excavating equipment to handle ponds, channels, shoreline restoration and lakefront dredging projects.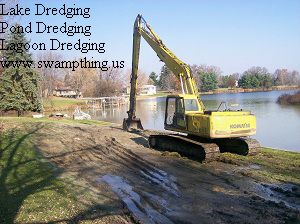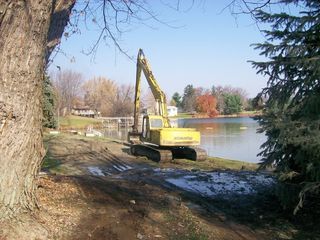 Our lakes, our ponds and our rivers are a great natural resource that we can't afford to abuse. We want to work together on creating healthy lakes, rivers and shorelines for future generations to enjoy. Dredging in South Carolina